Enabling safe, cost-effective Animal Health products – molecule to market
Syngene is committed to the Discovery, Development, and Manufacturing of products that improve the lives of companion animals.Veterinary formulations are complex and diverse to cater to the needs of multiple species. Further, you need to consider ease of use for the pet parent, dosing flexibility, etc., in developing the product.
Syngene understands these challenges, having worked with several global clients in the veterinary space. We offer services across veterinary hygiene, care, and nutrition products spanning small molecules and Biologics. We have supported numerous clients for NCEs and API development, including successfully undertaking several process scale-up programs.
We have unique capabilities in developing anti-parasitic products and offer various dosage forms to treat acute and chronic diseases. We have discovery, development, and manufacturing experience for treatment and therapies in oncology, immunology, neuroscience, metabolic disorders, inflammation, niche indications, CMVD, parasitic indications, etc.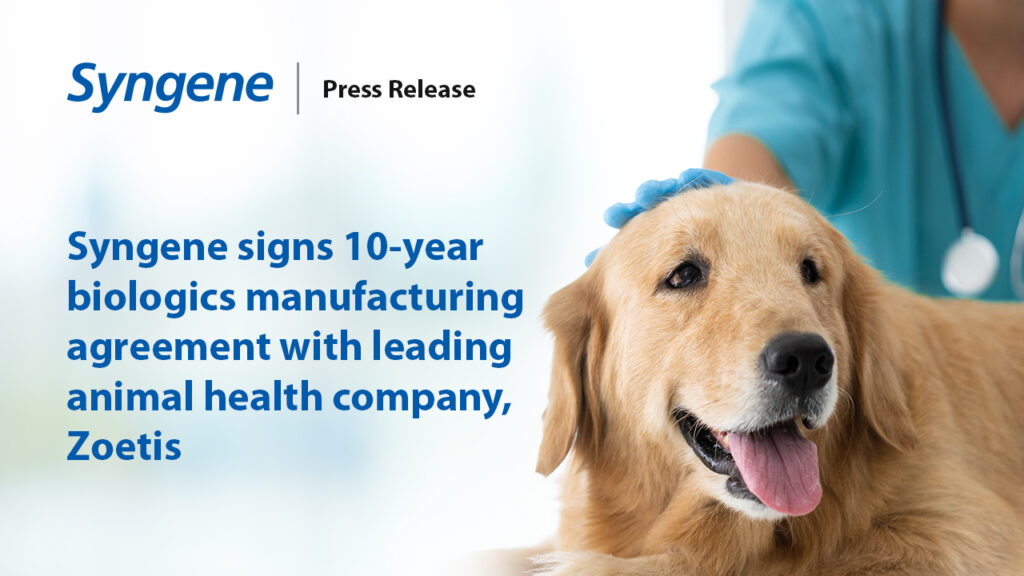 To manufacture the drug substance for Librela® (bedinvetmab), a first-in-class mAb used for treating osteoarthritis in dogs.Read press release
Ecosystem of service offerings for Animal Health — Discovery to Manufacturing
Discovery services: Target to IND
We support research programs from target identification to investigational new drug (IND) application. Our services include chemistry, biology, DMPK, analytical, and toxicology.
Analytical capabilities
Syngene provides test items formulated in solution/suspension before dosing. Our Analytical methods supporting toxicology programs include high-performance liquid chromatography (HPLC) or gas chromatography (GC). We also have experience in physicochemical testing to meet regulatory requirements.
Bioanalysis
Our Bioanalytical team provides services spanning early discovery until the preclinical phase. Our scientists have the expertise to develop and validate quantitative bioanalytical assays or transfer them to LC-MS/MS method.
Toxicology
We offer a comprehensive portfolio of in vitro and in vivo short and long-term toxicology studies to evaluate oral, dermal, and inhalation toxicity, dermal and ocular irritation, and skin sensitization. We also perform neurotoxicology (detailed functional observations and assessments), development, reproductive toxicity, and a wide range of genetic toxicology assays.
Development Services for Small Molecules
Formulation Development capability across dosage forms
Our capability in formulation development extends across dosage forms and clinical supplies for oral solids and injectable fill-finish. We ensure the palatability of our formulations early in the development stage for chewable, oral formulations. We follow quality by design (QbD), risk analysis (FMEA), and design of an experiment (DoE) processes during formulation development to ensure the success of our programs.
Our capabilities in formulations are as follows:
Multi-drug combination chewable tablets
Hard chew and soft chew tablets
Spot-on, topical, ready-to-use injections; multi-dose injections; lyophilized powder for injections; complex injection dosage forms
Can handle compounds up to OEL class 4 (1 mcg/m3)
Solubility enhancement techniques including amorphous conversion by spray-drying and hot-melt extrusion; nano-milling in wet dispersion form
Evaluating stability in super stress conditions and open exposure studies
Simultaneous analytical estimation methods for multi-drug combination products
Differentiated / 505b2 formulations from ideation to GMP batch manufacturing for clinical studies
Formulations for APIs susceptible to degradation
Formulations having a very low drug dose (microgram levels)
Polymorph screening and other pre-formulation activities for new chemical entities (NCE).
Development services for Biologics
We offer complete biologics development, starting from developing the stable cell line expressing the biologic therapeutic to commercial GMP manufacturing. We offer diverse product classes such as peptides, proteins, monoclonal antibodies, plasmid DNA and mRNA.
We conduct comprehensive drug substance and drug product development to ensure a robust process and a well-characterized product using an array of analytical tests. Production of clinical batches, consistency batches, PPQ, and commercial batches are all performed as per the VICH guidelines in line with the regulatory considerations. These are accompanied by stage-gated analytical characterization, quality-control tests, and stability assessments. All methods are qualified and validated as per the regulatory requirements.
Similar to human health biologics, extensive process and product characterization are required to provide assurance for animal health biologics. Process characterization is done using validated scale-down models to establish the criticality of various process parameters. Product characterization includes a thorough impurity assessment and evaluation of the safety and efficacy of known product variants.
As with any biotherapeutics, it is mandatory to provide PK, immunogenicity, and PD data to regulators for market authorization of animal health biologics. Syngene's GLP laboratory for biologics analysis provides all of this data.
An advantage in animal health is that the methods used to determine PK, PD, and immunogenicity in animals, are based on the same immunoassay platforms and guidelines that are used for human health biotherapeutic development. Additionally, animal health diseases have the disease targets already studied in humans in some instances. Hence, translating a therapy from humans to animals makes for speed and commercial sense. In contrast to human health drugs, animal health drugs also involve smaller clinical studies from pilot to pivotal trials, making them faster to bring to the market
Syngene's Regulated biologics Laboratory
Syngene's regulated biologics laboratory is an OECD GLP-certified laboratory with more than 15 years of experience in developing and validating immunoassays for various drug classes.
Recently, our laboratory completed developing and validating immunogenicity methods (cell-based and MSD) for three biologics drugs for diseases in canines and felines. For all animal health studies, the laboratory follows EMA and USFDA guidelines for bioanalytical (prescribed by CDER and CVM) immunogenicity assays. This is because immunoassays platforms for PK, immunogenicity and PD are the same across animal and human studies. We also refer to the recommendation and topic-specific white papers during the study method design, validation, and sample analysis phases.
Comprising a well-qualified and multi-skilled staff, the laboratory uses global immunoassay platforms like ELISA, MSD, Alphalisa, RIPA, and SPR to generate meaningful PK immunogenicity, PD, and biomarker data for developing animal health drugs for global clients.
Small Molecule manufacturing
GMP manufacturing of oral solids
We have a dedicated oral solids GMP manufacturing facility for Animal Health products that can handle clinical and VICH batches of up to 50 kg. The facility can handle animal origin materials (meat flavor granules) and APIs like ectoparasiticides (other than pesticides). We follow phase-appropriate quality requirements to expedite early-phase activities as per client requirements.
Our capabilities are as follows:
Manufacturing of hard chew and soft chew tablets
Manufacturing of large size tablets ( ~7 g) using a special tablet press
Blister packing of tablets up to 12 mm thickness using blister packing machine
Pouch-packing of individual blisters to cater to clinical study requirements
Manufacturing of registration stability batches
Stability center to conduct VICH stability studies
Mammalian facility
We offer a disposable-based Mammalian facility for clinical and commercial manufacturing supplies. We have multiple 100 to 2000L scale bioreactors for cell culture-based biologics. We offer parallel upstream suites and harvest options of centrifugation or depth filtration. Downstream processing is segregated into pre and post-viral suites, enabling efficient utilization of the GMP facilities.
Microbial facility
We have 200 to 500L scale bioreactors for microbial fermentation. The facility is suitable for recombinant proteins made from bacteria and yeast. The same facility also caters to the manufacture of plasmid DNA and mRNA products. It features 200L to 500L scale fermenters, refolding vessels, continuous centrifugation, cell homogenizer, chromatography, and tangential flow filtration systems.