Full-stack IND-enabling Toxicity Studies to assess safety profile of new drugs
For a molecule to progress smoothly from early-stage discovery to the investigational new drug (IND) phase and further to successful clinical trials, the data from preclinical trials must be accurate, reliable, and based on the best suitable and comparable models available to the target population. This means the IND or drug product must undergo a series of robust tests and experiments as per the focused indication and regulatory guidelines (FDA/EMA etc.). Syngene's safety assessment and toxicology services team offers a full range of exploratory, GLP toxicology studies and specialty studies that enable clients to assess a new drug's safety and toxicity profile. Our offerings are supported by clinical and anatomic pathology services, formulation analysis, toxicokinetic analysis, interpretation, and reporting services. We deliver high-quality reports, including providing a secure portal for electronic data transfer while maintaining industry-leading turnaround times.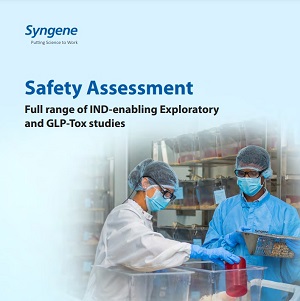 ---
Association memberships and accreditations
Our fully accredited, state-of-the-art vivarium has everything needed for executing PK & Toxicology for critical path studies
*Association for Assessment and Accreditation of Laboratory Animal Care | CCSEA:  Committee for the Control and Supervision of Experiments on Animals | GLP:  Good laboratory practice | IAEC: Institute Animal Ethics Committee | IBSC: Institutional Bio-Safety Committee
As a pioneer in stem cell research and treatment in Malaysia, Cytopeutics Sdn. Bhd. has worked extensively with Syngene on multiple preclinical projects such as safety (toxicity and tumorigenicity) and proof-of-concept studies for our new investigational product. We were consistently impressed with how efficiently the studies were initiated and progressed, within the stipulated timeline, despite the incredibly tight schedule and budget. We are extremely pleased with Syngene's outstanding quality of work, excellent professionalism, and the high level of dedication of each team member to our studies. With Syngene's help, we could complete our preclinical studies in time to support our clinical trials and product registration requirements. We look forward to working together again.