The oligonucleotide facility at Syngene started in 2014 with a process development lab and was later extended to a cGMP manufacturing facility in 2017. Syngene's oligonucleotide capacity and services range from development to cGMP manufacturing of chemically synthesized high quality modified and non-modified custom oligonucleotide (DNA/RNA), siRNA (single & double stranded, miRNA (modified and non-modified) and antisense oligonucleotides, at various scales with rapid turnaround time.
A highly qualified and experienced team is focused on establishing the technology platform for process development, manufacturing and analytical ensuring global client requirements. We have partnered with various clients' globally for long term alliances and programs.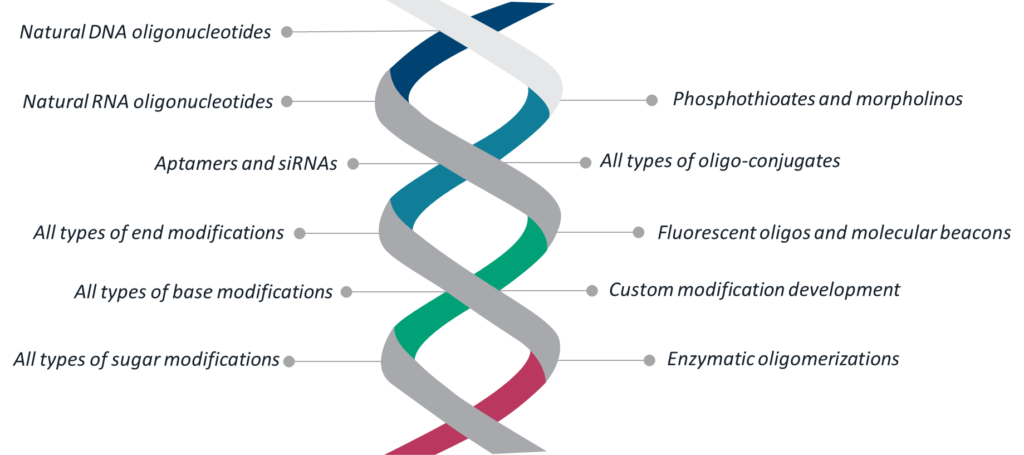 The benefit of Syngene's service is an independent-yet-integrated quality management system that has been approved by several national and international regulatory agencies like US FDA. The oligonucleotide facility follows the same standards.
Our development and cGMP scale
The typical scales of operation in development is around 0.25 mmol to 6 mmol and 4 mmol to 45 mmol at GMP scale to support R&D, development (100 gm), pre-clinical, P1 & P2 (100 to > 1 kilo).

Development facility (NGMP)
Syngene's development facility is equipped with world class ÄKTA Oligo pilot 100, a fully automated synthesizer of regular and modified oligonucleotides (chemically synthesized DNA/RNA, siRNA, antisense, aptamer, miRNA, oligopeptide conjugates) catering to Research & Development work.
250 micromoles to 6 millimoles (1gms to 25 gms)

Sequence length of 10 to 30 mer
Along with regular solid phase synthesis, Syngene also have the capability to develop and scale up of enzymatic reactions to synthesize long RNA polymers (Poly I & Poly C).
Manufacturing facility (cGMP)
Syngene has a state-of-the -art facility for its cGMP manufacturing of various class of oligonucleotides. The facility comprises of total area of 1500 sq.ft. fully equipped with world class GE make ÄKTA Oligo pilot 400, capable of manufacturing GMP grade chemically synthesized regular and modified oligonucleotides (DNA/RNA, siRNA, antisense, aptamer, miRNA, oligopeptide conjugates) for Tox studies & Clinical trials.
Scale of synthesis: 4 mmol to 45 mmol (6 g to 135 g) with a sequence length of 10 to 30 mer.
Syngene also in houses the complete analytical support for developed /manufactured oligonucleotide
Method transfer to/from client

Full set of in-process and lot release method development

Product characterization

Method qualification for release of toxicology or early phase clinical studies

Method validation