End-to-End expertise In PROTACs: Early proof-of-concept to identification of development candidate
PROteolysis Targeting Chimeras (PROTACs) have garnered a lot of attention in recent times for their ability to exploit the cell's own degradation machinery (ubiquitin-proteasome system) to irreversibly degrade target proteins.
While the research in this space is expanding, the design and optimization of PROTACs remain empirical. This is due to the complicated mechanism of induced protein degradation and molecular weight and size, leading to solubility, permeability, and bioavailability issues. This limitation calls for an efficient workflow with assay development that helps enhance your understanding of the structure-activity relationship facilitating the rational design of PROTACs.
At Syngene, we offer end-to-end expertise in PROTACs. This includes proof-of-concept (PoC) studies to validate whether the target is amenable to the targeted protein degradation (TPD) approach, hit PROTAC degrader identification, lead optimization, and finally, selection of the clinical candidate.
With 450+ dedicated TPD scientists and more than 15 global clients, we have a strong track record in accelerating PROTAC programs for our clients. Our Discovery team has successfully identified Hits and leads across several projects, including programs moving into preclinical development through a strong collaborative effort. Currently, we are expanding our capabilities to support programs based on molecular glues, ribonuclease targeting chimeras (RIBOTACs), and lysosome-targeting chimeras (LYTACs), termed as X-TACs
Integrated drug discovery services across medicinal chemistry, assay biology, DMPK, and in vivo pharmacology, enabling seamless progression of your PROTAC molecules
Assay Biology unit equipped with automation and state-of-the-art instruments to enable assay optimization and effective screening flow
Availability of all assay formats for cell-free and cell-based assays for target engagement, ternary complex formations, and target degradation. This includes fluorescent polarization (FP), AlphaLISA, NanoBRET, time-resolved fluorescence (TR-FRET), HiBiT, Western, InCell Westerns (WES/ICW) platforms for various screening cascade assays to identify PROTACs from hit to lead to candidate degrader selection across drug discovery programs
Availability of in vivo models in various therapeutic areas, including oncology, inflammation, central nervous system (CNS) disorders, and metabolic disorders to support PK-PD and efficacy studies
Addressing challenges from target assessment to candidate development
Assessing the suitability of a Target for TPD approach
We can help you evaluate targets to determine whether they are amenable to degradation using the following approaches:
1. WES/ICW for estimating target expression and its kinetics in the cell line/s of interest
We provide a quantitative estimation of the target expression kinetics – a crucial first step in the PROTAC strategy for TPD — to determine endogenous degradation of the target of interest.
For advanced studies supporting the regular screening of compounds at higher throughputs, we perform target degradation assays using HiBiT or Nano-Luc tag-based approaches.
2. dTAG approach
To evaluate the suitability of the target, we use a generalized tag-based strategy called degradation TAG (dTAG system). The system evaluates the effects of rapid and selective degradation of protein targets in time scales not possible with traditional genetic approaches.
The degradation tag (dTAG) system pairs a novel allele-specific degrader of FKBP12F36V and the expression of FKBP12F36V in-frame with a target protein of interest. The system is a highly selective and generalized strategy to study the immediate consequences of target protein degradation using transgene expression or CRISPR-mediated, locus-specific knock-in. Key considerations for this strategy are the choice of the heterobifunctional molecule and the target protein's functionality after tagging its C terminal or N-terminal regions.
Identification of Hit degrader through to in vivo POC
We provide high-quality in vitro assay data with a quick turnaround time enabling you to make informed decisions for SAR and medicinal chemistry-related iterations to advance your R&D programs.
Our assay biology group has expertise in selecting the right assay using the right platforms and approaches based on the target and E3 ligase to enable quick identification of Hits. We evaluate the compounds for their biochemical and cell-based assay potencies for in vitro ranking. This is followed by DMPK (solubility, permeability, stability, mouse/rat PK) and in vivo studies for PROTAC screening as per the screening cascade. Our experts help establish PK-PD correlation and test the lead PROTACs to understand their efficacy or need for optimization.
Our portfolio of assays to decipher the potency and profiling of PROTACs are as follows:
• Finding suitable E3 ligand
• Linker length optimization
• Exit vector optimization
• Optimization of physicochemicalproperties
• Purification of final degraders
• Binding affinity
• Ternary complex formation
• Assay development for target
engagement and target degradation
• Data correlation- cooperativity vs. degradation vs. potency
• Solubility
• Permeability/influx
• Tight binding to proteins
• Appropriate formulation strategy early in the program
• PD outlasts PK
Portfolio of PROTAC assays
Lead optimization to candidate selection
Syngene offers all services in the drug discovery pipeline to advance your idea from bench to bedside efficiently. Our services include medicinal chemistry, assay biology, DMPK, in vivo pharmacology, safety assessment, and toxicology.
Our experience In PROTAC programs
Our Discovery team has identified hits and leads across several projects, including programs moving into preclinical development through a strong collaborative effort. Currently, we are working with more than five US-based biopharma companies and three other companies from the rest of the world.
A client's PROTAC journey in partnership with Syngene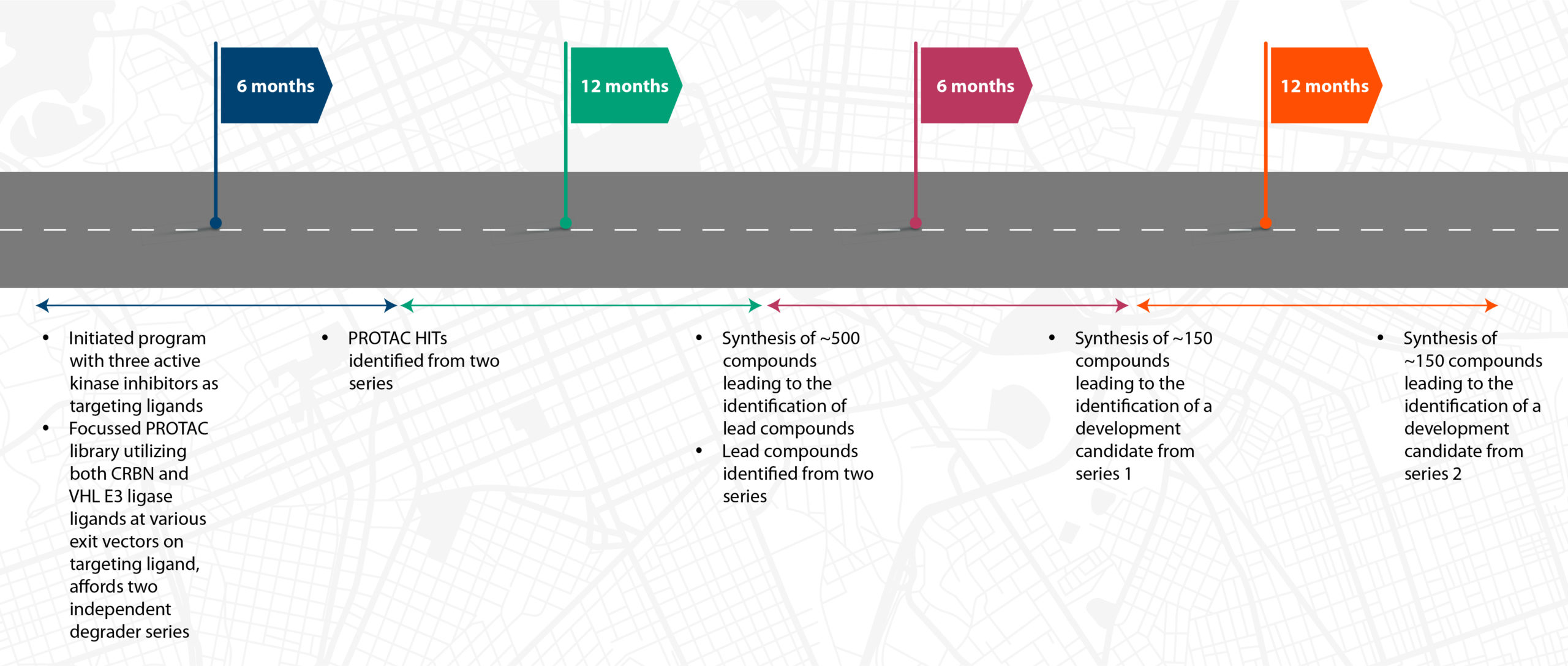 We value our strong relationship with Syngene to support C4 Therapeutics' research efforts across chemistry and biology to advance targeted protein degradation science. The scientific discussions, flexibility, and transparency between the teams have been key to making our collaboration successful.
Targeted Protein Degradation: A novel therapeutic modality
Reinventing ADME PK Profiling Strategy for PROTACs discovery